[ad_1]
Independence Day is upon us, and that means Grill Masters (and Grill Mistresses!) Across America will light up the barbie in honor of America's birthday. You know the typical menu: cheeseburgers with the softest cheeses; hot dogs and shish kebabs; back ribs dipped in barbecue sauce filled with hidden sugars. As appetizing as it may be – and we don't judge if you let go, we are all human after all! common triggers like dairy, gluten, and fatty processed meats.
But a healthy and delicious barbecue plate is possible, says nutritionist and stage IV endometriosis warrior Khush Sra, who has created three fun, endo-friendly recipes exclusively for EndoFound readers.
"The great thing about these burgers is that you can use most of the same ingredients for vegan and turkey burgers, so there's less mess," says Sra, 38. "Just swap the turkey for mushrooms." As a bonus, there's also a summer side salad on the deck. Enjoy your lunch!
Ultimate Paleo Turkey Burgers
For 4 people
1.5 lbs lean ground turkey
1 red onion, sliced ​​into rings
1/3 cup freshly chopped cilantro
1/2 tsp. chopped garlic
1/2 small onion, minced
1/2 tsp. thyme
1/2 tsp. sage
1/2 tsp. ground black pepper
1/2 tsp. cayenne (optional)
1 tbsp. olive oil
1 Beefsteak tomato, sliced
1 head of Boston lettuce, washed and patted dry
salt to season
Avocado dressing:
2 Hass avocados, mashed
1 tbsp. freshly squeezed lime juice
sea ​​salt to taste
In a large bowl, combine the ground turkey, minced onion, thyme, sage, black pepper, minced garlic and cayenne pepper. Use your hands to mix everything up. Form four round patties and set aside. In a small bowl, add the avocado, lime juice and sea salt. Mash with a fork or potato masher. Put aside. Barbecue over medium-high heat. Place the turkey patties on the grill, broiling each side for 5 to 6 minutes. Remove from fire. Assemble by placing a lettuce leaf on the bottom, followed by the turkey patty topped with a slice of tomato, guacamole and onions. Devour!
Portobello mushroom burgers
For 2 people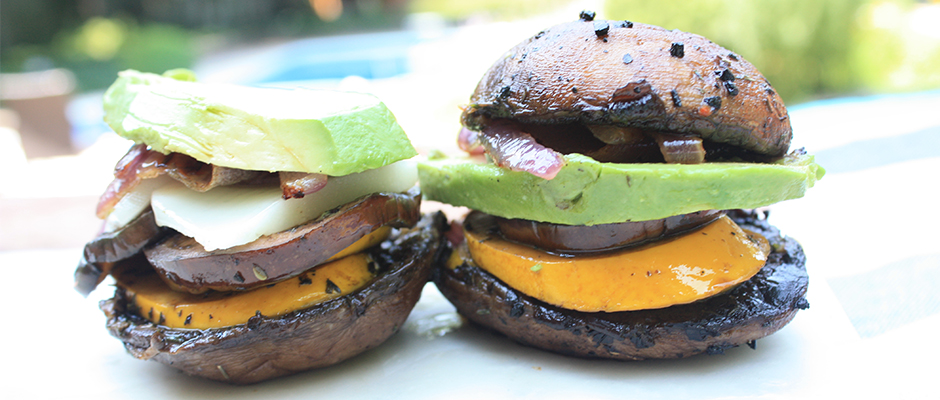 1 cup red onion, sliced ​​into rings
1 yellow zucchini, cut into slices
1 eggplant
1 avocado, sliced
2 tbsp. extra virgin olive oil
1 tbsp. coconut oil
1/2 tsp. dried thyme
sea ​​salt and black pepper (to taste)
4 portobello mushroom caps
goat or vegan cheese (optional)
field greenery (optional)
1/3 cup freshly chopped cilantro (optional)
Instructions:
Preheat the grill to medium-high heat. In a bowl, combine the red onion, zucchini and eggplant. Drizzle with olive oil and season with herbs, sea salt and black pepper to taste. Mix well. Transfer to a grill basket and place on the grill. Grill for 15 minutes or until lightly charred, stirring periodically. Caramelize the onions separately by adding them to a hot pan with 1 tablespoon of coconut oil. Cook over low heat until the onions are golden. Put aside. Brush the inside and outside of the portobello mushroom caps with olive oil, salt, pepper and thyme. Place the mushroom heads face down on the grill and grill on each side until slightly softened. Remove the grilled vegetables and mushroom cap from the grill. Fill the inside of the hats with vegetables and an avocado slice. Fill the other mushroom hat with goat or vegan cheese if you like. Place on top to form the perfect veggie burger!
Easy to prepare fresh summer salad
For 5 people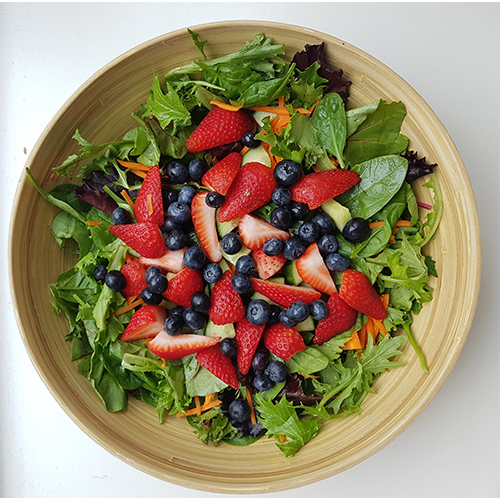 1 handful of strawberries
1 handful of blueberries
2 cups of baby kale
2 cups of baby spinach
1 tbsp. olive oil
1/2 tsp. balsamic vinegar
1/4 tsp. maple syrup (optional)
1 carrot, julienned
1/2 chopped cucumber
Instructions:
Wash and dry the green vegetables. In a large salad bowl, add 1 tablespoon of olive oil, balsamic vinegar and maple syrup. Mix well. Add the chopped cucumber and the julienned carrots. Wash the berries and slice the strawberries over the salad. To serve.
[ad_2]
Source link